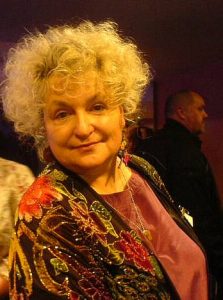 Pat Cadigan sold her first professional science fiction story in 1980 and became a full-time writer in 1987. She emigrated to England with her son in 1996. She is the author of fifteen books, including two nonfiction books on the making of Lost in Space and The Mummy, a young adult novel, and the two Arthur C. Clarke Award-winning novels Synners and Fools. She has also won the Locus Award three times, as well as a Hugo Award and a Seiun. Pat lives in gritty, urban North London with the Original Chris Fowler and Gentleman Jinx, coolest black cat in town. She can be found on Facebook and tweets as @cadigan.
Most of her books are available electronically via SF Gateway, the ambitious electronic publishing program from Gollancz.
In late December, 2014, she was diagnosed with terminal cancer and given two years to live. Notorious for missing deadlines, however, Cadigan missed that one, too. Cadigan believes she was put here to accomplish a certain number of things and she is now so far behind, she can never die. She still has cancer but cancer still doesn't have her.
Find Pat at:
Twitter:  http://www.twitter.com/cadigan
Website: http://patcadigan.wordpress.com/